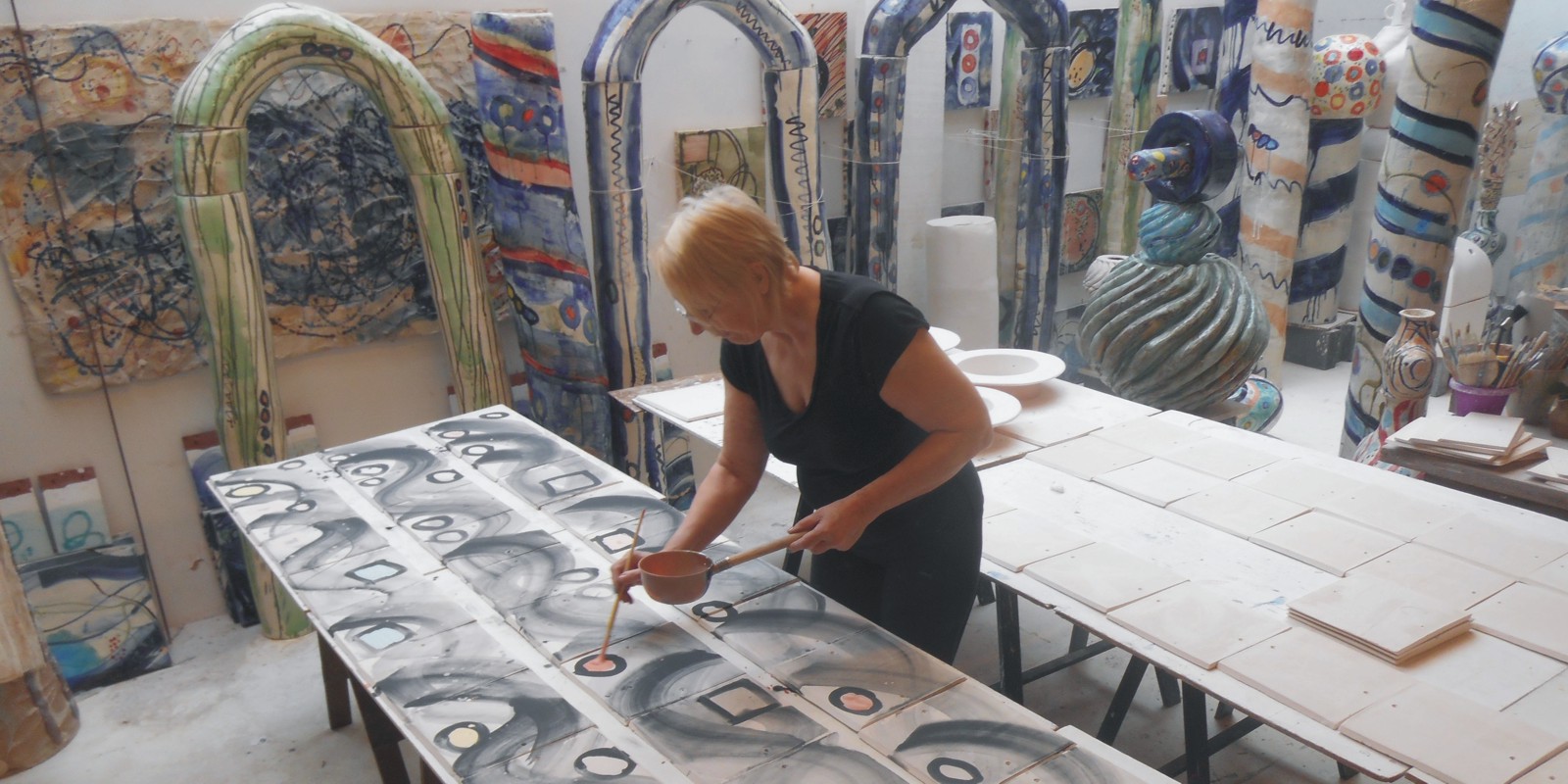 Sources of Inspiration
Article by Emmanuel Cooper:
Crafts ~ No 52 May/June 1998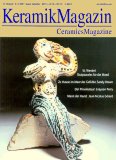 Show Article
At first glance there is little to associate Sandy Brown's colourful and exuberant tableware with Japan, where she learnt to be a potter. Yet a more considered look unravels the history embedded in these joyful objects. Following on the long tradition of potters making containers for food, Brown's pots, despite the relaxed, almost naive quality of the making, are to be used, and are perhaps surprisingly practical. Some of them, such as the tea bowls and trays, call directly on Japanese forms.
But Brown has eschewed the pure minimalism of much contemporary tableware for more assertive work combining fulsome, generous forms with bold, colourful decoration. In some ways, her expressionist use of colour and pattern are more evocative of such painters as Jackson Pollock, Fiona Rae or even Howard Hodgkin rather than the restrained, hard-edged minimalism of artists like Barnett Newman and Ellsworth Kelly. Like the abstract expressionists, Brown rejects the objective in favour of the subjective, making reference in the decoration to the figure and landscape yet without quite being either.
Brown arrived in Japan in 1967, en route to establishing a new life in Australia, but found herself enthralled and never travelled further east. One attraction was the care with which the Japanese chose and even cherished food. Meals were carefully thought about and planned, the food tasty as well as meticulously prepared: above all, they were beautifully presented, often with special pots, many hand-made and used only for specific dishes, converting eating into a rich and rewarding celebration of both pots and food, offering nourishment for mind and body.
Attracted by the idea of working with clay Brown was accepted as a potter at the traditional Daisei Pottery in Mashiko, learning to pot by observation rather than instruction. Fascinated she watched the potters prepare clay by the centuries-old kneading method, systematical rocking, swaying and pushing to homogenise the clay ready for throwing. Pots were thrown using super-soft clay, which puts up least resistance, on small Japanese barrel wheels, the fly-wheel being turned with a curious flicking movement of the foot. Forms were traditional and glazes restrained and quiet, and to begin with she made thousands of small bottles as kiln-fillers. It was at Daisei Pottery that Brown met and later married Takeshi Yasuda.
This was when Hamada had a pottery in Mashiko, and Brown felt greatly honoured to be invited for tea and English conversation by a distinguished a potter, who she felt successfully combined self containment and humility with extraordinary talent.
In the early 70s the two came to England and like many other potters at the time set up a pottery, where Brown made wood-fired stoneware using the restrained colour and earth-like qualities of the firing. A perfect opportunity to rethink her pots came when "Takeshi became artist-in-residence at Bergen, and Brown discovered that the kiln was too big to fired on her own.
For six months she made earthenware, using the local Fremington clay enjoying the qualities of slip-decoration, before deciding she preferred the softer qualities stoneware, and her new work was born. At first the colours were those obtainable from oxide - browns and blacks, greens and blues - applied by painting or trailing. Attracted by the luscious colours displayed so shamelessly in manufacturers' catalogues, however, Brown demanded samples of high-temperature colours, and discovered the delights of soft pinks, yolk-yellows and salmon reds, all of which became part of her regular palette.
But it is not just the colour which forms so distinctive a part of Brown's pots - there are also the forms themselves. Like the pots she learnt to make in Japan, these are made from softish clay (she now uses a ready-prepared body which gives the right degree of smoothness and bite), which she throws on her own slow-turning Japanese wheel. The gently swelling pots are soft and sensual, with no hard edges or crisp silhouettes. All carry a profound sense of growth, induced by the rounded shapes and understated throwing marks which are an intrinsic characteristic of the form. A layer of white slip is applied to cover up the greyish body, providing her with the ideal canvas on which to decorate. Colour is applied boldly, one senses the determination of a four-inch brushstroke set against dots, trails and dashes of slip. During the firing, the softish covering of clear glaze adds a smooth practical surface which unites form, slip, and pattern.
In addition to the pots, Brown models female figures, which she says reflect a part of herself. These range in height from 20 cms to near-life-size, and recall the directness of such votive figures as ancient mother goddesses or the female deities of Crete. After an amicable divorce from Takeshi some years ago, when the figures became wild and assertive, recent work is quieter and more subdued as her life, she feels, has become more settled and fulfilled. Now she thinks her sculptures are less about the spiritual world, and more about an inner self, a place of dream and fantasy and emotion in which the work and its making plays a central role.
New directions also include tall pots, some two metres high, and obelisk forms with a magisterial presence. Brown's ceramics are open to a range of interpretation, but for me they are essentially about the times in which we live. Although the tableware derives from such diverse sources as the formal qualities of Japan food culture, the looseness of Fremington slipwares, and the enthusiasm and vigour of the pattern-and-design school of modern painting, it is uncompromisingly modern in feel and style. There is no possibility, for example, of mistaking Brown's tableware for anything other than a contemporary response, for her engagement is with the possibilities of clay today, and the freedoms it can offer. A table filled with Sandy Brown pots is a feast in itself — but with food it is even better.
Sandy Brown: The Sculptures
Article by Lionel Philips:
Ceramic Art and Perception (Australia) No. 30 Dec 1997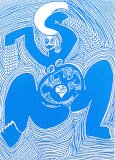 Show Article
Sandy Brown is an artist who chooses to make her art in clay. She also chooses to make as part of her creative output items of functional ware which are traditionally the province of the craftsman potter. What distinguishes her work, both functional and otherwise, is first her willingness to give rein to her imagination so as to liberate form from the limitations of the commonplace and secondly an exuberance of decoration that is peculiarly hers.
A cognate quality and one that may be regarded as an unusual measure of aesthetic merit but which I believe to be valid, is its solidity. One often picks up a ceramic work of elegant shape and exquisite glaze only to be disappointed at its flimsiness. It is like picking up a butterfly. Pick up a piece by Sandy Brown and its weight immediately tenses the muscles making form palpable.
On first acquaintance Brown's work may seem to be unrestrained expressionism but when we contemplate it we become aware that it is subject to an intellectual discipline that is a framework for both the form and the visual satisfaction that the viewer receives from it. It is not by chance that each piece is apt for its purpose and works three dimensionally whether it be a soup bowl or a goddess figure. It is this discipline that gives the work its potency.
Colour as well as freedom of form lies at the heart of Brown's art. Colour applied with vigorous broad brushwork or dribbled or splashed with energy and passion always in harmony with and as an enhancement of the underlying form. Yet one can sometimes visualise the decoration as self-contained images and it may be that the larger wall paintings are a logical extension of this quality.
Because of the extrovert nature of Brown's painting it is easy to overlook the fact that the colours she adopts are never brash. At different periods in her progress she has used a varying but limited palette; latterly the blues, pinks and greens have attained the rich warmth and depth that we associate with a mature artist whose intuition is tempered by experience.
Brown's figurative, but by no means representational, sculptures have been relatively little seen and are distinct from the rest of her oeuvre. They are intensely personal and reflect the tribulations and joys of a psychological and philosophical journey. They require an essay beyond the confines of this notice. Here it is sufficient to say that they have a primordial and earthly power that seeps into the memory. It is remarkable that in recent sculptured figures pigment has been abandoned for natural unglazed clay striated with deep finger-drawn furrows with no loss of effect. The stripping away of excess embellishment, the use of the simplest means to indicate features and the body language of the figures suggest the exhilaration of a burden discarded.
The tall hollow columns, a new development, suggest the same sense of unfettered confidence as they stretch towards the sky.
I have attempted to draw attention to some salient aspects of Sandy Brown's art but I think that ultimately it is to be valued not for particulars but overall for its daring, for pushing at the extremes of what is possible within the chosen realm. She is prepared to risk failure in order, more often than not, to succeed triumphantly.